US Senator Elizabeth Warren and the Warren Democrats Endorse Judge Jennifer Brunner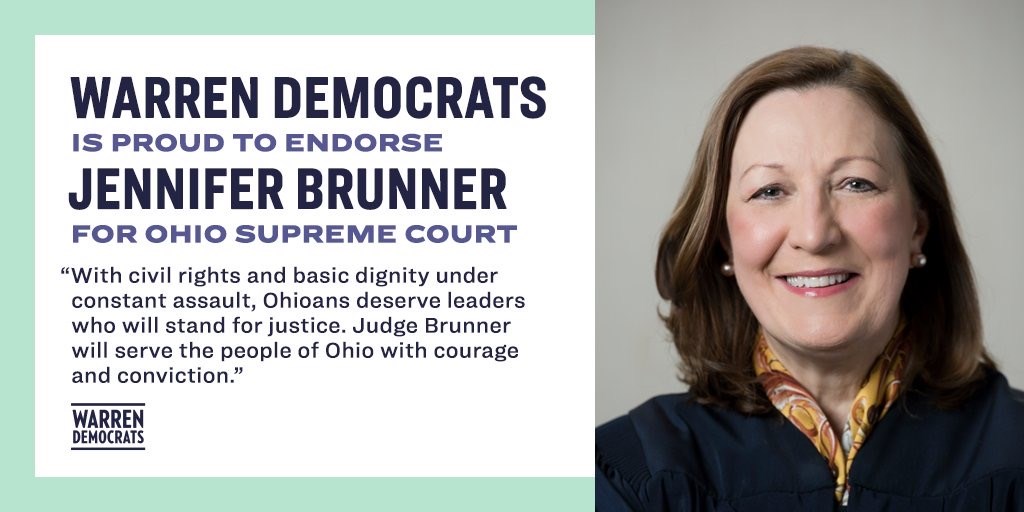 This just in from elizabethwarren.com:
"Warren Democrats is supporting Democratic candidates fighting for progressive change, mobilizing people to support those candidates and these ideas, and continuing to build the grassroots movement that Elizabeth Warren inspired. Here's what Elizabeth has to say about these incredible candidates:
JENNIFER BRUNNER | OHIO, SUPREME COURT
'In the wake of the financial crisis, Jennifer fought to hold Wall Street accountable. As Ohio's first female Secretary of State, and while I was at the Consumer Financial Protection Bureau, Jennifer alerted me about federal legislation that would have allowed big banks to cheat the American people even further. We worked together to put a stop to it, and President Obama vetoed the bill. At a time when civil rights, voting rights, and basic dignity are under constant assault, Ohioans deserve leaders who will stand for justice even if it means standing alone. I believe that Judge Brunner will serve the people of Ohio with courage and conviction as an Ohio Supreme Court Justice and that is why I am supporting her.'"
Judge Brunner is the only judicial candidate in the nation supported by Senator Warren in this initial round of endorsements. Judge Brunner tweeted her thanks to Senator Warren and the Warren Democrats, as local Ohio Warren Dems picked up the banner and endorsed her, pledging to work for her campaign throughout the state.
Judge Brunner said, "Senator Warren and I met in 2010 when she worked in the White House with President Obama and established the Consumer Financial Protection Bureau. It was an honor to collaborate with her then, and I'm so pleased to have her support of my candidacy now."
A major theme of Judge Brunner's campaign is "Justice for the People" grassroots initiative, designed to bring Ohioans together in their shared hopes, history and heritage. Judge Brunner understands how important people's confidence in the state's judicial system is. She frequently states, "I have observed in my years of public service that people appreciate and in fact prefer public servants who work for the people, regardless of party affiliation."
Judge Brunner is working hard to win in November and remains committed to a robust, strong and safe campaign to help her candidacy be widely known and understood by Ohio voters. She previously served in statewide elective office as Ohio's 52nd Secretary of State from 2007-2011 and was awarded the John F. Kennedy Profile in Courage Award in 2008, a bipartisan award for acting with political courage for the greater good, even when unpopular.
Judge Brunner is unopposed in the March 17, 2020 primary election and is working smart and hard to win the seat now held by a judicial incumbent in the general election November 3, 2020.