Home
❭
News
❭ Multi-county fundraiser featured speeches from Ohio Democratic candidates and party chair
Multi-county fundraiser featured speeches from Ohio Democratic candidates and party chair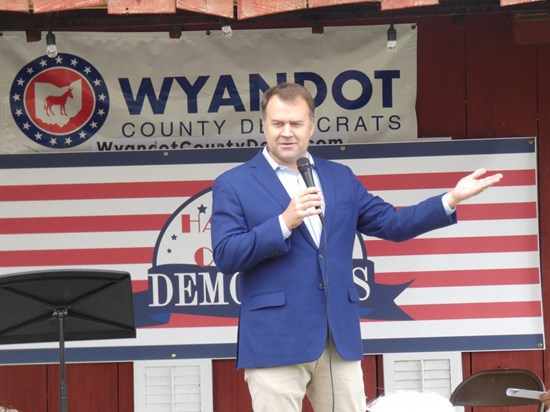 David Pepper, Ohio Democratic Party chair, offers Democratic strategy at the Wyandot County Democrats' multi-county Oktoberfest fundraiser.
SEP 30, 2019
BRET NYE
Staff Writer
bnye@advertiser-tribune.com
NEVADA — Wyandot County Democratic Party hosted a multi-county Oktoberfest fundraiser at White Shutter Winery & Brewery, 3794 C-56, Nevada, that included residents from Wyandot, Seneca, Crawford and Hancock counties Saturday afternoon.
Jennifer Brunner, judge on Ohio's 10th District Court of Appeals and former Ohio Secretary of State, and Ohio Democratic Party chair David Pepper took to a stage and spoke about Brunner's recently announced campaign for an Ohio Supreme Court seat and general election strategy for local and state Democratic parties.
Brunner, who is challenging Republican Ohio Supreme Court Justice Judi French for her seat in 2020, said her focus as a judge has always been on rule of law.
"And I'm happy to be in the judiciary," Brunner said, "where we can check the legislative and executive branches of government."
Brunner said she wants to "make people's lives better" and make it to all 88 counties in the state by next year during her campaign.
"That's what I hope to do," she said.
Ohio Democratic Party chair David Pepper gave some remarks after Brunner. He told Brunner that "whoever gets the Democratic nod (for the 2020 presidential campaign) will be lucky to have you here in Ohio."
"This election is about the generations that follow," Pepper said. Addressing the audience of Democratic voters, he said that the "good news" is that "we can do it right here in Ohio: there's no reason in the world we can't go blue a year from now in November 2020."
For full article, click here.