It's official - we broke gerrymandering in Ohio . . .

THANK YOU.
It's official. Yesterday, the Ohio Secretary of State certified Ohio's election results. Our collective work in this race for the Ohio Supreme Court created a bright spot for Ohio. We defeated an incumbent justice. And in doing so we broke Ohio's gerrymandered Congressional districts. Take a look: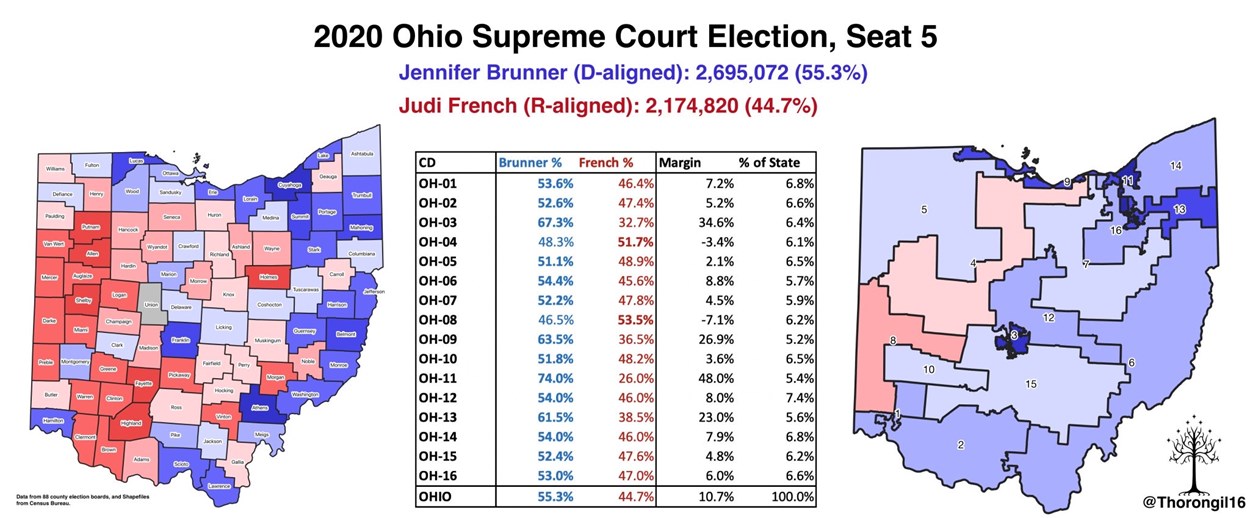 Together we won counties a Democrat has not won in years. Together we won 14 out of 16 of Ohio's Congressional districts. Together we outperformed the Democratic presidential candidate in 77 out of 88 counties. And importantly -- together we beat Ohio's gerrymandered Congressional map. And we are not done.

One of the major reasons I ran for the Ohio Supreme Court in 2020 was to play a role in any challenge of Ohio's new districts in 2021 -- to help keep districts drawn under the state constitution's new formulas adopted by Ohio voters in 2015 and 2018, honest and true to the voice of the people.

Thank you for what you did. I will be there for you every step of the way -- just as you have been for me. I love Ohio, and I will work my hardest to prove it every day I have been given to serve as your Ohio Supreme Court justice.

I know it's been a tough year. But our work together has created a real bright spot of hope for our future. Together we overcame obstacles and proved Ohio can come together in new and amazing ways.

We'll have another chance to come together and celebrate what we've done. Soon we will send you details about our swearing-in ceremony, to be held during the first weekend of January. You can attend through Zoom, and all can remain safe during this time.
Thank you
for what you've done. You make Ohio great. Please stay safe.
Judge Jennifer Brunner
Justice-elect, Ohio Supreme Court