It's official . . .
For Immediate Release:
Friday, Dec. 13, 2019
CONTACT: Andrew DeCarlo (330) 402-7087 adecarlo@ohiodems.org
FORMER OHIO SECRETARY OF STATE AND CURRENT TENTH DISTRICT COURT OF APPEALS JUDGE, JENNIFER BRUNNER, FILES FOR STATE SUPREME COURT RAISING HOPES FOR FAIR LEGISLATIVE AND CONGRESSIONAL DISTRICTS IN OHIO AFTER 2020
COLUMBUS -- Former Ohio Secretary of State Jennifer Brunner, now an appellate judge serving in Columbus, filed petitions today to run for the State's highest court next year. The Supreme Court of Ohio is poised to review challenges of any new district maps drawn after the 2020 census according to new state constitutional requirements to eliminate gerrymandering.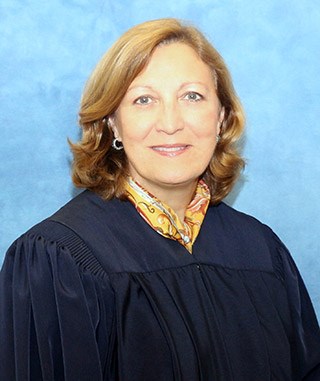 "My passion is fairness and protecting the rule of law. People have certain guaranteed rights in our democratic republic. As Secretary of State I protected their voting rights. As an Ohio Supreme Court justice I will protect all of their rights. There is not a Republican or Democratic way to fairness. I have observed in my years of public service that people appreciate and in fact prefer public servants who work for the people, regardless of party affiliation," said Brunner.
Filing petitions circulated by volunteer supporters from throughout the nation's seventh largest state, Judge Brunner receives both state and national support for her decision to return to statewide office.
DNC Chair Tom Perez said, "When I served as Chief of the Civil Rights division of the US Justice Department I worked with then Secretary of State Jennifer Brunner to ensure every eligible Ohioan had access to an election ballot they could read and understand. As Ohio implements a new way to draw its district lines after the 2020 election I can think of no one better than Judge Jennifer Brunner to ensure Ohio's districts are fair."
Ohio Association for Justice President Ellen McCarthy said, "Judge Jennifer Brunner would bring a wealth of experience and a refreshing, people-oriented approach as a Justice of the Ohio Supreme Court. That is why the Ohio Association for Justice supports her candidacy."
"Judge Brunner by her example as a public servant has inspired many women and men to pursue elected public service," said Kathy DiCristofaro, Chair of the Ohio Democratic Women's Caucus and a public school teacher. "She is fiercely independent of influences that would diminish the protection of the rights of all persons under the law and is a strong advocate of access to justice."
Ohio House Minority Leader Emilia Sykes said, "Electing fair-minded legislators to draw fair districts is the first step to guaranteeing full participation in government for all Ohioans. No one is more prepared than Judge Jennifer Brunner to fairly review any district plan with care for the well-being of our state, whether it's big cities or small towns. The diverse lives of our people matter in this election and fair districts will ensure that all Ohioans are fairly represented."
Judge Jennifer Brunner serves as one of 8 state appeals court judges of the Tenth District Court of Appeals located in Franklin County, Ohio; she previously served in elective office as a Common Pleas Judge (2000-2005) and Ohio Secretary of State (2007-2011).
In 2008 Brunner received the bipartisan John F. Kennedy Profile in Courage Award, the nation's most prestigious award for elected public servants, for what Caroline Kennedy called, "her dauntless commitment to the enfranchisement of every Ohio voter" while serving as Ohio's Secretary of State.
In 2010, Judge Brunner was a candidate for the United States Senate. Previously, she was a principal at Brunner Quinn just prior to being elected to her current judicial position in 2014 and reelected without opposition in 2016. Having founded her law firm in 1988, Judge Brunner holds 17 years private law practice experience as well as state government experience in the Ohio Senate and the Secretary of State's office as a staff attorney.
Judge Brunner has assisted foreign governments with rule of law and self-governance matters, including anti-corruption and judicial reform consulting in the Republic of Serbia, election observation in the Arab Republic of Egypt and providing legal training in the Socialist Republic of Sri Lanka.
Judge Brunner has been married since 1978 to attorney Rick Brunner, who grew up in Columbiana County in Northeast Ohio. They have three adult children and five grandchildren. Born in Springfield, Ohio, she spent her formative and adult years in Columbus, Ohio, graduating from Columbus public schools, from college at Miami University of Ohio, cum laude, and from law school at Capital University Law School with honors.
###
Paid for by Jennifer Brunner Committee