Americans Make America Great: VOTE . . . and help others access voting, too
When I observed three Egyptian elections in 2014 and 2015 (constitutional referendum, presidential and parliamentary), it became clear from my discussions with Egyptian citizens and with soldiers guarding the polling locations that many Egyptians believed the American people to be good people, even though they did not necessarily like its government. They saw the American people as good-hearted and optimistic in spite of their government.
Conservative columnist George Will in an
op ed
for the Washington Post said this:
In April 1970, President Richard M. Nixon told a national television audience that futility in Vietnam would make the United States appear to the world as "a pitiful, helpless giant." Half a century later, America, for the first time in its history, is pitied.
Not even during the Civil War, when the country was blood-soaked by a conflict involving enormous issues, was it viewed with disdainful condescension as it now is, and not without reason: Last Sunday, Germany (population 80.2 million) had 159 new cases of covid-19; Florida (population 21.5 million) had 15,300.
We know that we, the American people, are better than this. And we don't need pity or condescension--we need ACTION by individual citizens in the oldest, continuing democracy in the world today. In fact, the word, "democracy" comes from the two Greek words, "demos," or "common people," and "kratos," meaning "strength." When every person participates by voting, we are strong.
Now is the time for each of us to show our individual and collective strength. And the simplest way to do that is to VOTE!
Here's what YOU can do about voting this fall:
1. make sure you are registered to vote and that your voter registration is current--do this by October 5, 2020--you can access voter tools for that through my website at
jenniferbrunner.com/voterto
ols
3. encourage others to do this, too--my campaign has postcards you can send urging your friends and family to do this. Contact us for yours at jenniferbrunner.com/contact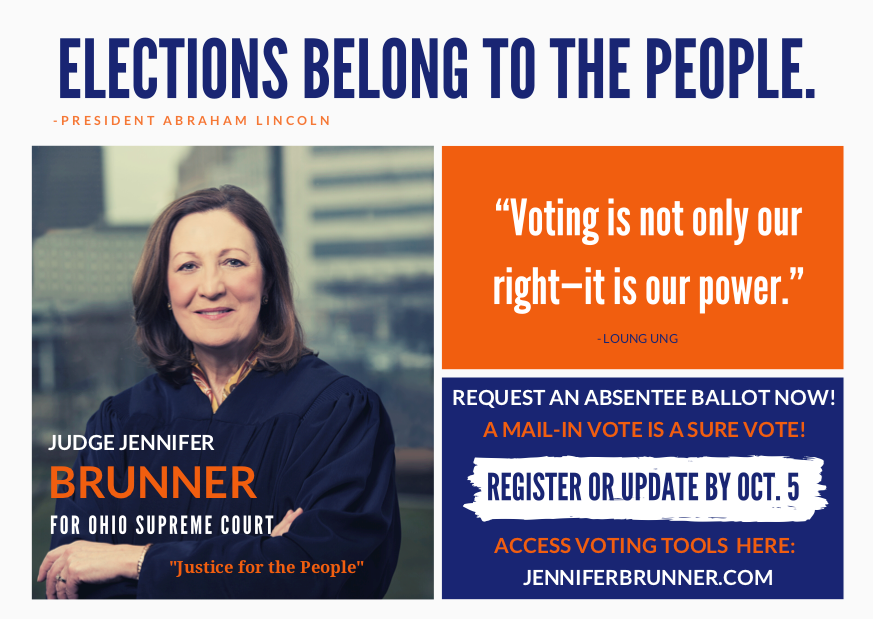 4. when you get your ballot, complete it sooner than later, and if you aren't comfortable mailing it in, drop it off to your county board of elections. You can find election board addresses here: jenniferbrunner.com/votertools
5. call or email your friends and relatives whom you've asked to vote by mail to make sure they received their ballots and will mail them in on time (domestic ballots must be postmarked before the date of the election), or encourage them to drop their ballots off to the board of elections; you can deliver a relative's ballot for them, but not a friend's (that's the law).
WE can do this--YOU can do this, so let's go!