ABOUT

JUSTICE JENNIFER BRUNNER
Below, Justice Jennifer Brunner appears with members of the Benin Human Rights Commission in August 2022 while providing pro bono assistance there through the American Bar Association Rule of Law Initiative, a USAID-funded program.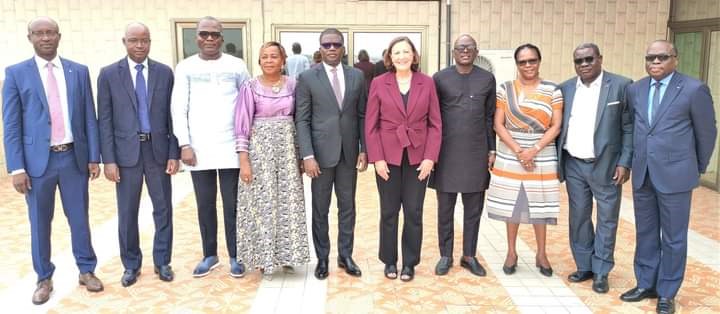 "Justice begins with each of us. When we seek justice, we must first examine our minds and our hearts. Justice involves lifting up our shared history, hopes and visions for our future, respecting one another amidst our great diversity--and tolerance rooted in love. The result always will be greater than the sum of its parts. One of the greatest joys of public service is when this magic happens."
- Justice Jennifer Brunner
JUSTICE JENNIFER BRUNNER
Brief Biography
JENNIFER BRUNNER
Justice, Ohio Supreme Court
On November 3, 2020 Jennifer Brunner was elected Justice of the Ohio Supreme Court. Previously she served as a judge of the Tenth District Court of Appeals for 6 years and the Franklin County Common Pleas Court for nearly 5 years. As a trial court judge Brunner founded the county's adult felony drug court, known as the TIES (Treatment is Essential to Success) Program, now in operation for more than18 years. She was elected Ohio's first woman Secretary of State on November 7, 2006 and held the office for four years. While in that office, she became the first Ohioan to receive the John F. Kennedy Profile in Courage Award from the bipartisan board of the JFK Library and Museum in Boston. Justice Brunner was a candidate for the U.S. Senate in 2010. She has 17 years of private law practice experience and has provided rule of law technical expertise to the government of the Republic of Serbia, election observation in the Arab Republic of Egypt, and rule of law instruction at the bar association of Sri Lanka through the U.S. state department (USAID), as well as provided remote technical training through the American Bar Association (ABA) to the Republic of Kazakhstan, and in August 2022, in-person assistance to the Republic of Benin's Human Rights Commission. She has gained a deep understanding of the importance of a strong and well-functioning judiciary to preserving peace and growing democracy through the rule of law. A native of Springfield, Ohio, Justice Brunner has been married to Rick Brunner since 1978. They have 3 adult children and 6 grandchildren, 3 dogs and 2 cats and spend time at their home in Columbus and at their farm in Columbiana County in Northeast Ohio.
This brief biography can be downloaded here.
Photo of Justice Jennifer Brunner can be downloaded
here
.
A copy of the Ohio Constitution can be downloaded here.